Page 1 of 5 • 1, 2, 3, 4, 5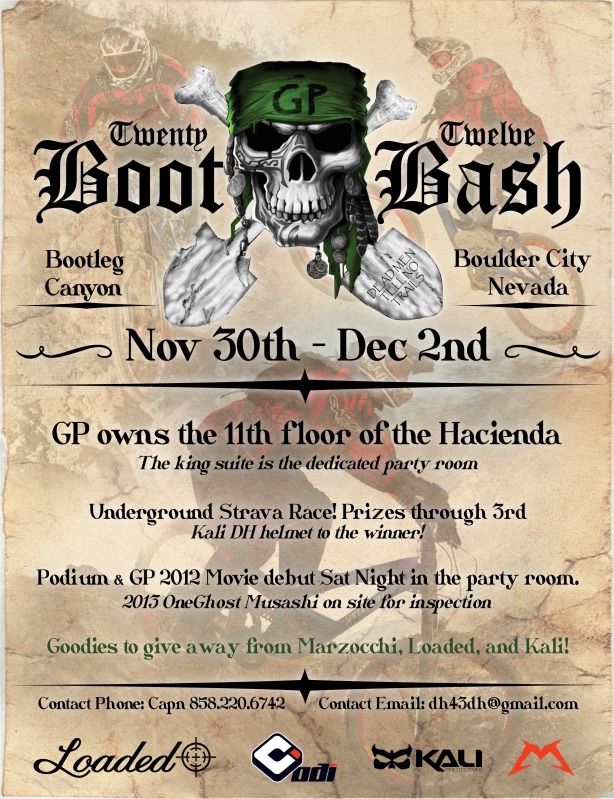 Let's show our sponsors that backing DHrs is a GOOD move for them. Post this flier on other forums, FB, etc. Next year we want to have sponsors lined up to get on our flier!

I'll update this 1st post with info from questions asked in this thread. Please continue to check this ORIGINAL post for updates. No need to scroll all the post in the thread for info...if it's important, it will be added here.
Q:
What time will the festivities start on. The first day?
A: Ride on your own schedule. Strava race times are valid Fri or Sat only. GP room festivities will kick off at sunset Sat.
Q:
I ordered a room on the GP floor. Now what?
A: Check this thread. You will see your name and room number. Check in at the front desk to receive your key(s).
Q:
How do I do the Strava thing?
A: Download strava on your phone. Join the gravity pirates group(see link to the right on this page<---). On Fri night you'll be able to see the GP race course on the map. Ride it fast on Sat for your chance to podium!
Last edited by Cap'n on Wed Dec 19, 2012 7:40 pm; edited 10 times in total
_________________
I'm a REALTOR....USE ME! 858-220-6742/dh43dh@gmail.com(use for PayPal too!).  Buying or selling anywhere in Ca..not just SD.  "In Big Bear too?"  Yep.  "Wait, in Los Angeles?"  Yep.  "How about...."  YES!  Anywhere in CA man! 


This is gona be sick!!! This will be my first BB!! Can't wait. I already did some pre running when we filmed the movie Time is the Enemy. So 2013 One Ghost is inspection with riding or only looking?? Don't matter I'm still getting mine! I should be bringing my media guy also so we can get some awesome pics for this event!
Page 1 of 5 • 1, 2, 3, 4, 5


---
Permissions in this forum:
You
cannot
reply to topics in this forum