June 2019
| Mon | Tue | Wed | Thu | Fri | Sat | Sun |
| --- | --- | --- | --- | --- | --- | --- |
| | | | | | 1 | 2 |
| 3 | 4 | 5 | 6 | 7 | 8 | 9 |
| 10 | 11 | 12 | 13 | 14 | 15 | 16 |
| 17 | 18 | 19 | 20 | 21 | 22 | 23 |
| 24 | 25 | 26 | 27 | 28 | 29 | 30 |
Calendar

Latest topics
»
GP Pedals *friends pricing
by
SeanC
Mon Jul 16, 2018 11:47 pm
»
LARGE Specialized SX Trail **SOLD**
by
SeanC
Mon Jul 16, 2018 11:43 pm
»
2013 Specialized Demo 8 - Large
by
420
Tue Mar 20, 2018 12:27 pm
»
2013 SantaCruz V-10 Carbon Enve
by
rossepickles
Sun Nov 19, 2017 2:34 pm
»
Cleanin out the Garage.. Forks, Kids/Grom stuff,DH
by
dajake22
Mon Aug 28, 2017 5:40 pm
»
2013 Fox 40 RC2, great condition
by
dft
Mon Jun 19, 2017 9:31 am
»
Help me decide what brakes to get! Need your help!
by
FOUL HABITS
Wed Jun 14, 2017 9:33 pm
»
snow summit 2017
by
mxwhitey
Mon Jun 05, 2017 12:09 pm
»
2013 specialized enduro and stumpjumper FSR med.
by
MagicMac
Thu May 18, 2017 8:44 am
»
2013 Demo 8 custom build
by
Lastpikd
Fri Apr 07, 2017 7:38 am
»
Banshee Scream/Chaparral/ w/parts
by
no flow
Mon Feb 27, 2017 6:29 am
»
Marin Quake w/ DVO Diamond - $1200
by
idoeverything
Sat Dec 03, 2016 11:07 pm
»
2014 Transition TR450 size M $3100
by
boneyard
Thu Dec 01, 2016 4:20 pm
»
Serfas Hardshell Bike Box
by
808Rippaz
Wed Oct 26, 2016 10:26 am
»
$$$$ The good ass deal thread! $$$$
by
sean 601
Mon Oct 17, 2016 6:32 pm
»
FREE SHIT MUDAFUKAZ...aka 'pay-it-forward' thread
by
sean 601
Sun Sep 18, 2016 4:54 pm
»
Whistler prices set to inflate...
by
Mint Sauce
Mon Aug 08, 2016 2:06 pm
»
Whistler vs. Coast Gravity Park
by
Mint Sauce
Mon Aug 08, 2016 10:02 am
»
2016 Gravity Card
by
SeanC
Sat Jul 30, 2016 10:19 am
»
2014 Session 88 Full DVO and Profile Hubs
by
808Rippaz
Wed Jul 27, 2016 11:26 am
»
Rockshox Lyrik RC2DH
by
Lastpikd
Wed Jul 27, 2016 8:46 am
»
Six Six One Rage Elbow Pads Size:LG
by
darrenregina
Fri Jul 15, 2016 7:28 am
»
Grand Targhee Bike Park
by
darrenregina
Wed Jul 13, 2016 11:59 am
»
2015 Devinci Spartan Carbon Complete 650B 1x11 DVO
by
VRvento
Mon Jul 11, 2016 10:32 am
»
Capns Sleds ON THE BLOCK
by
Cap'n
Mon Jun 27, 2016 7:41 pm
»
Raceface Tailgate Pad $70
by
m0to
Mon Jun 27, 2016 4:17 pm
»
Magic Mary 27.5 Tires
by
Trouble
Thu Jun 16, 2016 11:23 am
»
Looking for a 20mm axle 26" front wheel
by
Mint Sauce
Wed Jun 15, 2016 10:17 am
»
2013 Session 88 frame 26 BRAND NEW
by
808Rippaz
Tue May 31, 2016 3:00 pm
»
2015 Session 8 Park 26 BRAND NEW
by
808Rippaz
Tue May 31, 2016 2:55 pm
Top posting users this week

HighRoller II Reviewed by PinkBike
Maxxis High Roller II Tires - Tested
by Rob Venables
Aug 8, 2011
What is it:
The original High Roller has proven itself to be both a top contender
and a great all-around tire, having numerous World Cup and World Champ
victories to its name, but Maxxis has been working hard on a new
version, aptly named the High Roller II, that builds on the original
design. Maxxis claims that they have improved both braking and cornering
traction, as well as created a tire that rolls faster. There will
initially be just two versions available: both using the same 2.4" wide,
2-ply casing, but one utilizing their 3C triple compound, and the other
their longer lasting 60a rubber - although you can be sure that smaller
volume options will be added in the near future. The 3C compound High
Roller II tested here retails for $93 USD, similar to their other 3C
offerings, although you'll likely be able to find it for less at your
local shop.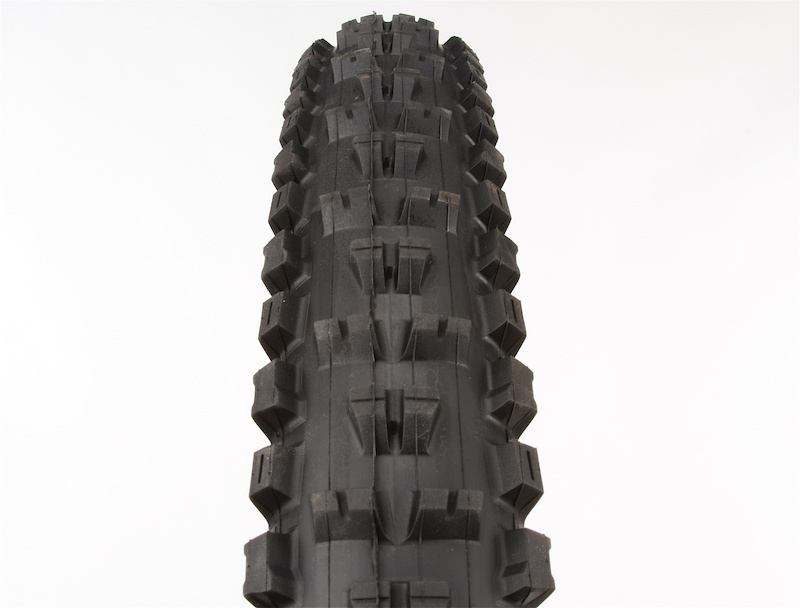 The
new High Roller II takes the best attributes of the original design and
builds on them, with Maxxis claiming that the new model rolls faster,
brakes better and corners more predictably.

Maxxis High Roller II details:

- Initially available in two versions: 2.4'' wide, 2-ply, 3C compound/2.4'' wide, 2-ply 60a compound
- Weight: 1290 grams (3C version, actual)
- MSRP $93.00 USD (3C model)
The details:
Maxxis hit a home run with their original High Roller, one of the most
successful tires ever made, but riders are going faster and further
than in the past and it was time to look for more performance from an
old favorite. The High Roller II uses the same basic arrangement as the
original design, and even the same casing, but knob shape and layout
have been altered in an effort to find more braking traction and corning
bite while also looking to improve rolling speed. The chevron shaped
crown lugs have been reversed and feature a much more pronounced braking
edge to them, along with a sipe from left to right to allow for more
knob flex. One of the few complaints about the original High Roller was
an uncertain feel from the tire when transitioning from the crown to the
shoulder knobs, something that Maxxis have claimed to address with the
added vertical sipe to the braking lugs that span the tire's center
section. A tire is judged greatly upon its cornering abilities and while
the original High Roller is known to be among the best, Maxxis wanted
to take it to the next level without losing the attributes that made the
first design popular to begin with. The cornering knobs were altered
with this in mind, angling them slightly for more bite and adding a
vertical sipe, again for added knob flex to allow them to conform to the
ground better than a solid knob. Changes were also made to have the
cornering lugs bite sooner than on the previous design.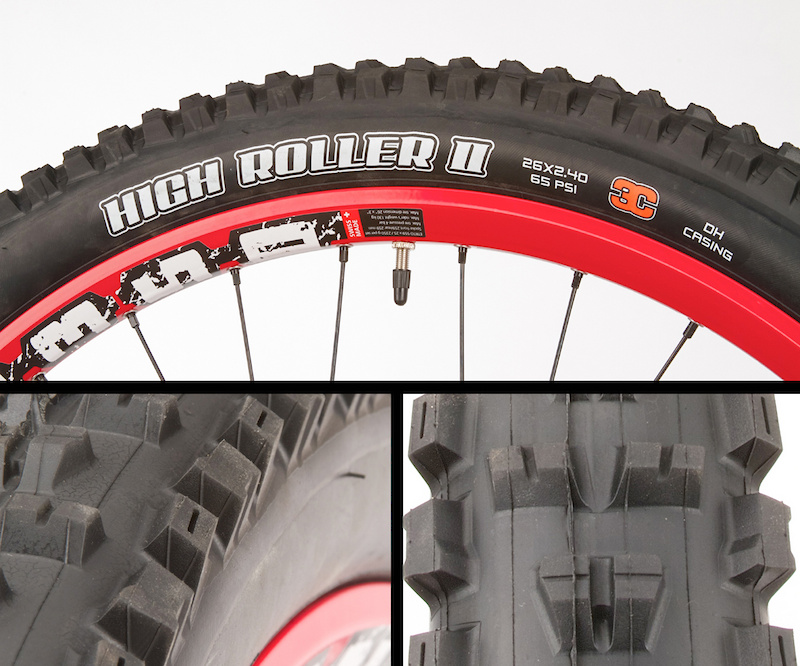 The High Roller II uses a revised cornering knob layout (left)
that have been designed to engage sooner in an effort to provide a more
positive turn-in feel. Sipes have also been added to the side knobs
that allow them to flex and conform to the ground better. The crown
knobs feature far more prominent braking edges, and also see sipes
incorporated.
Given that a tire's
width will vary depending on the width of the rim, size is always a
tricky thing to discuss, but it is universally agreed upon that the
original High Roller is slightly undersized compared to the advertised
width. The new High Roller II uses the exact same casing as its
predecessor, which Maxxis says uses a 2.4" volume, but also employs
taller shoulder knobs that give the tire a wider footprint than the
original High Roller. The difference is clear to see with both versions
mounted to the same DT 2350 wheel (
24.8mm internal rim width
):
the original High Roller measures up at 2.28"/58.1mm wide, while the new
High Roller II comes in at 2.32"/59.1mm wide. Again, because the casing
is the same, this difference is solely down to taller shoulder knobs.
This is slightly slimmer than the claimed width, but keep in mind that
tire size is a function of rim width and it will vary accordingly.
While
it's easy to see where the High Roller II came from, there are also
some clear differences between the two that should create a tire with a
different personality. Beyond changes to knob shape, the new High Roller
II is also slightly wider due to taller shoulder knobs - 2.32'' wide
compared to the old versions 2.28'' wide, measured on the same DT Swiss
rim.
The performance:
I tested the High Rollers II's on a 2011 Intense M9, mounted on an MTX
31 rim in the back and a Mavic 521 rim up front. After some
experimenting I settled on running 25psi in the front, paired with 29psi
out back with XC weight tubes. One of the first things I noticed on the
High Roller II was how much more I had to lean the bike into corners
compared to the original High Roller. The old High Roller had a fast,
almost harsh transition when going from the center to the corning knobs,
where the High Roller II takes a bit more energy to get on the side
knobs, but provides a much smoother and predictable setup into corners.
Once I got used to leaning the bike more I was blown away by how far I
could push and lean the new tire's shoulder knobs and my confidence in
them quickly skyrocketed. When the knobs did start to break loose, it
was a lot more predictable than the original High Roller. Overall, the
High Roller II provides a smoother and more predictable feel throughout
the corner. One thing to note was that on some of the harder packed
corners in the Whistler Bike Park I could feel the longer, angular
corner knobs of the High Roller II starting to fold over, causing the
tire to lose traction. Do keep in mind that it's not designated as a
hard pack tire, and those same long cornering knobs are what enables the
tire to find its impressive traction in the slop and loam.

A predictable feel and more control when braking make the High Roller II an improvement over the original design.
To
be honest, I didn't notice a massive difference between the old High
Roller and the new High Roller II when it came to straight line braking.
The High Roller II still offered the same great braking power that made
the original such a popular choice for a rear tire, but the High Roller
II excels in braking control while cornering. I found that the old High
Roller could make the rear end hard to place on the steeps when on the
brakes hard, but the new version feels like it now has a touch of the
Minion DHF braking control in it, turning the rear end of the bike into a
rudder on the steep stuff that can still be easily moved around.
However, the High Roller II offers more outright stopping power than the
Minion DHF due to its large paddle-like center knobs.
Given that
conditions can vary so much on the same trail, rolling speed can be
hard to gauge, but the High Roller II does feel like it rolls a touch
slower than the old version. This is probably due to the increased
contact patch from the center knobs being flattened out, along with the
fact that the tire is slightly wider and has increased spacing between
the knobs. That increased spacing may slow down the tire a bit, but it
created great mud clearing performance that I was impressed by. One race
in particular was under horrendous conditions that saw the usually fast
rolling course transformed into a series of swamps and muddy ruts. Many
riders made the switch to full-on mud tires, but I decided to stick
with the High Roller II's to see how they would handle the nasty
weather. Every time I would stop during practice I was blown away by how
there was next to no mud packed into my knobs, while other riders
around me had Minions that resembled semi-slicks. The High Roller II
cleared great in the sloppy conditions and found tons of traction where I
thought that they may struggle.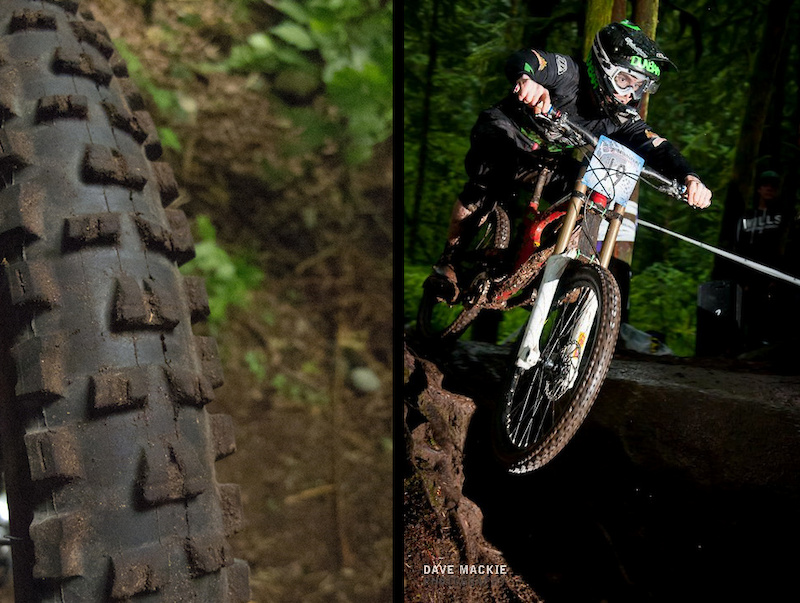 The 3C compound High Roller II (left)
after nine days of solid riding, including time in the Whistler Bike
Park. The updated High Roller managed to stay remarkably clear in muddy
conditions (right)
When it
comes to durability you need to keep in mind that this is a performance
tire that offers superior traction, and therefore it sadly does not
always last as long as some of its harder compound competitors. I put a
total of nine days of solid riding and racing on the 3C compound High
Roller II's, but this included full days in the Whistler Bike Park that
can easily count for a week of riding in other locations, and would
likely replace at least the rear tire around the twenty day point. After
feeling the cornering knobs fold in some of the harder packed corners
in Whistler, I was worried that the thin and long side knobs of the High
Roller II were going to start tearing at the base, and although there
was a small amount of tearing beginning to show, they did hold up better
than expected. During my time in the Whistler Bike Park I pushed the
limits of my wheels, putting a couple flat spots in my rim without
suffering any flats. I would by no means say that these tires are more
resistant than any previous 2-ply Maxxis tire though, as I have always
found that the rubber and sidewalls on the Maxxis' offers great flat
protection. One thing to note is that on some of the high speed, hard
packed corners the wider flanged and thinner side knobs sometimes will
fold over causing the tire to lose traction.
Pinkbike's take:
We loved the improved predictability during cornering and were
impressed by how well the tire performed in the sloppiest of conditions.
The new High Roller II is a step away from a comprehensive dry tire,
and a step towards a true all-conditions option that can be used in more
settings. It slots in between the Minion, a dry tire, and the Wet
Screams. The original High Roller was, and still is, a great tire, but I
think it's the same as the comparison between the original Knight Rider
to the new Knight Rider. David Hasselhoff might now be an alcoholic,
and who cares that he might only be popular in Germany, he is still a
timeless classic who will never be forgotten. For those who don't
understand my bad analogy, I'd still use the first generation High
Roller, but the new version is an improvement in nearly every regard.
- Adam Mantle
Bargain at $93! I can get tires for my truck cheaper...
no shit!!!! fucking mtb tires cost more than my moto bikes....and don't give me "it's R&D or smaller market" BS because they do R&D on ALL tires not just mtb tires....and the mtb market is larger and more people buy mountain bikes than dirt bikes
a normal mtb tire is cheap. top of the line cost money!
Maxxis charge what they do because of the worlwide sponsorships they have with the the top riders. $93 retail is outragous. R&D, my foot. The changes may make a difference to WC riders in search of an extra 0.01 second.



WTB Dissent is a top of the line tire Fabien Barel uses & can be found cheap all day long. Barel got 4th place at a WC with the top 3 rollin on Maxxis. I'm sure most of the people Barel beat were also running Maxxis.
Here's another review of the HR2: http://blistergearreview.com/gear-reviews/maxxis-high-roller-2
I really liked the writeup on Blister.

kdiff

Cabin Boy





Posts

: 326


Likes

: 8


Join date

: 2010-10-26


Age

: 39


Location

: Aliso Viejo



Retail for any competition type tire is going to be outrageous... Most of us are jaded with sponsors for racing, though we shouldn't because we're slow as hell, so seeing full "suggested retail" is a sticker shock. Real life price at your shop or online is a bit "normal" in at around $60ish.. (which is still high) And "pro" deals at even cheaper.
As for this new HR2.. I want to try it.. That and the new Minion 2.. tires are like shoes, dont skimp or your gonna get sore feet..


BusterB

1st Mate





Posts

: 862


Likes

: 65


Join date

: 2010-09-16


Age

: 98


Location

: Virginia/ DC



That tire looks like a Nevegal and a Chunder fucked and gave birth to a High Roller II.

stinkyrider

Lookout





Posts

: 428


Likes

: 28


Join date

: 2010-09-11


Location

: Orange County





Similar topics
---
Permissions in this forum:
You
cannot
reply to topics in this forum